Recently, the state-level Hai'an Economic and Technological Development Zone and the Jiangsu-level Hai'an High-Tech Industrial Development Zone were unveiled at the same time in Hai'an, Jiangsu. Eighteen companies from the United States, Germany, Australia, the Netherlands, France, South Korea and other countries and regions invested in Hai'an and signed a total of 76 projects with Chinese and foreign investors. Among them, Hai'an County Government signed a friendly cooperation agreement with Oakland County, USA, and Detroit's overseas economy. The development company plans to invest 3 billion U.S. dollars to build the Hai'an Detroit Auto Parts Industrial Park in Hai'an.

The Secretary of the CPC Hai'an County Party Committee, Shan Xiaoming, said that the high-end equipment manufacturing industry in Hai'an Economic and Technological Development Zone is well-established. It has a National Torch Program elevator components characteristic industrial base, a National Torch Program building materials equipment characteristic industrial base, and a provincial-level power equipment characteristic industrial park. In recent years, Hai'an has closely followed the development path of domestic first-class, world-leading, and blank-filled development, focusing on cultivating the characteristics of the equipment manufacturing sector, initially forming power transmission and transformation, building materials equipment, forging machinery, elevators and spare parts, automobiles and parts, and tracks. Eight characteristic industrial parks for transportation, agricultural machinery, and ships have become important equipment manufacturing bases in the north wing of the Yangtze River Delta.

Lu Weidong, head of Hai'an County, said that during the unveiling of the two major development zones, the Hai'an County People's Government signed a friendly cooperation agreement with the Oakland County of the United States. The Detroit Overseas Economic Development Company planned to invest US$3 billion in the Hai'an Economic and Technological Development Zone to build the Detroit Auto Parts in Hai'an, China. The industrial park is an important undertaking base for the transfer, expansion and upgrading of the global auto parts industry. A group of domestic high-tech companies also focused their attention on industrial upgrading investment to Hai'an. Shanghai Zhangjiang Changping Science and Technology Investment Co., Ltd. decided to invest 3 billion yuan in Hai'an High-tech Zone to build the Hai'an Connected Vehicle Industry Park.

According to Matthew Berger, an assistant county governor of Oakland County in the Greater Detroit region of Michigan, the United States' Detroit Overseas Economic Development Corporation decided to build the Hai'an Detroit Auto Parts Industrial Park in Hai'an Economic and Technological Development Zone. Park has been formed.

Shan Xiaoming said that local party committees and governments can only take the initiative in economic development if they actively and initiatively take the corporate body to participate in transformation and upgrading, with technology engines to drive transformation and upgrading, and with innovative services to ensure transformation and upgrading. To promote the stable, healthy and sustainable development of the economy and society, the development trend of "stabilizing China and taking a new step and climbing to new heights" has emerged.
Cold spray Road Line Marking Machine is widely used in roads, bridges, railways, factories, coal mines, car parks, city markets and airport run inside. In the flat ground to draw different constraints and warnings and other rules to limit the signs of the road construction machinery.
The Cold spray road Line Marking Machine has played an important role in urban planning and highway construction with the advantages of speed, accuracy and efficiency. The greatest savings in the construction period of the road construction and economic investment. It consists of the following parts:
1. Piston pump body: the use of all-oil intrusion type of oil, hydraulic power, reduce wear and tear, the service life of up to 40,000 hours or more.
2. Seal: the United States imported raw materials carefully designed from casting, ultra-wear-resistant, whether winter or summer, can be used freely, Naisuan Jian, fatigue. Replacement is simple and convenient.
3. Suction pipe network: vertical body, suction tube easy to clean care, one can move independently, easy construction and operation. Stainless steel processing anti-corrosion, the wall does not fall off is not blocked. Suction filter to solve the liquid into the small, easy to plug the problem, increase the liquid into the area, narrow space, built-in increased filter.
4. Body: into the liquid valve and the outlet valve with ball-type ceramic beads super wear-resistant, than the traditional ball more than a few times the life span, no face, not broken sitting.
5. Frame: the use of vertical design compact and practical, removable, the frame can easily winding 30 meters high pressure hose, the overall equipment easy to care.
Main scope: Concrete Grinding machines, Floor Polishing Machines, Road Line Marking Machines, Truck Cranes, Road Rollers, Excavators, Concrete Leveling Machines, Power Trowels and other Construction machinery .
Jining oking tec co.,ltd, established in 2010, is a professional manufacturer engaged in the research, development, production, sale and service of Concrete Grinding machines, Floor Polishing Machines, Road Line Marking Machines, Truck Cranes, Road Rollers, Excavators, Concrete Leveling Machines, Power Trowels and other Construction machinery .
We are located in Jining city,Shandong province with convenient transportation access. Dedicated to strict quality control and thoughtful customer service, our experienced staff members are always available to discuss your requirements and ensure full customer satisfaction.
In recent years, we have introduced a number of advanced production equipment, and also have an excellent production team and a complete quality assurance system to ensure that each batch of goods is delivered to customers in a timely and high quality.
We also have an excellent management team, experienced technical staffs and professional sales team to solve all problems you encountered before and after sales. In addition, we have obtained I S O 9 0 0 1:2 0 1 5 certificates. Selling well in all cities and provinces around China, our products are also exported to clients in such countries and regions as United States, Europe,Australia, Southeast Asia,Russia,the Middle East,Africa. We also welcome OEM and ODM orders. Whether selecting a current product from our catalog or seeking engineering assistance for your application, you can talk to our customer service center about your sourcing requirements.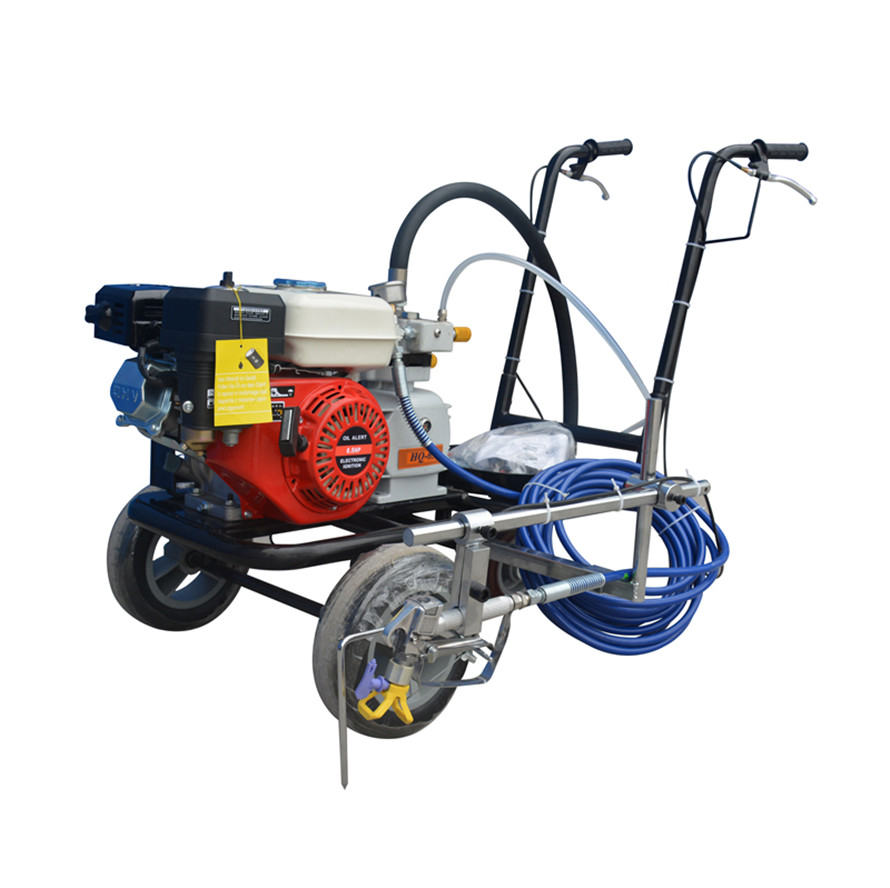 Cold Paint Road Line Marking Machine
Cold Paint Road Line Marking Machine,Cold Paint Road Marking Machine,Cold Spraying Road Marking Machine,Road Painting Machine
Jining Oking Tec Co., Ltd. , http://www.okingmachinery.com