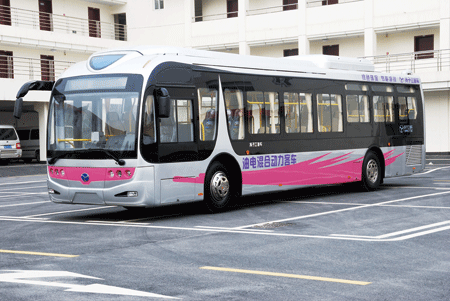 Recently, Dongfeng Yangtze River, Xinao Group, and Kefeng Investment Consulting Company jointly invested 50 million yuan to jointly establish New Austrian Yangzijiang LNG Energy Company. The company is mainly responsible for the LNG energy supply chain in Hubei Province, including the establishment of stations, LNG logistics and transportation, and Gas services and other integrated supply services.
It is understood that the Dongfeng Yangtze River LNG bus is expected to go offline on October 15 and the New Austrian Group is responsible for LNG energy supply. After the signing of the cooperation agreement between the two parties, where will the Hubei LNG buses be opened, where the filling stations will be built, and an integrated cooperation approach will be adopted to ensure the supply of gas resources. According to experts, from the point of view of the advantages of energy use, compared with diesel fuel, CNG fuel costs only 45% of diesel fuel for a hundred kilometers. Compared with diesel fuel, LNG fuel costs only 300 percent of diesel fuel for 100 kilometers.
The new vehicle's atmospheric tank can store 240 cubic meters of gas. According to the calculation of gas consumption of 33 cubic meters per 100 kilometers, the refueling can run more than 700 kilometers at a time. It can not only adapt to the operation of city buses, but also can adapt to long-distance passenger transportation.
Starting from 2011, during the "Twelfth Five-Year Plan" period, LNG refueling stations will be put into operation in various cities in Hubei Province to form an LNG supply network throughout the province, fully satisfying the demand for low-carbon transportation equipment in Hubei Province.
The first batch of RMB 2 billion will be used to build 50 LNG refueling stations in Wuhan's 8+1 cities, of which 30 LNG refueling stations will be built in Wuhan and are expected to be put into use by the end of the year. In the later period, 100 LNG refueling stations will be established within the province to ensure the supply of Hubei LNG energy.
Dongfeng Yangtze River New Energy Bus Development:
Dongfeng Yangtze River began to develop gas buses in 1998. Along with the advancement of the national West-East Gas Pipeline Project, the company designed and manufactured Yangzijiang brand WG6100A, WG6100E, and WG6101N natural gas buses in 2006. It was soon recognized by the market and consumed. The acclaim. In the country's implementation of public transportation priority policies, Yangzijiang passenger cars keep pace with the times and actively develop WG6120CHA rear diesel passenger car, WG6100NHAE rear natural gas passenger car, WG6121NQ0E front natural gas passenger car, and WG6850NHKN rear natural gas passenger car to meet the national standards. The environmental protection and energy-saving series of passenger cars provide excellent equipment for city buses to "see beautiful, affordable, and well-used" and lead the bus industry again for resource-saving and environment-friendly bus equipment.
Construction Machinery Parts,Machine Tools Accessories ,Machinery Parts,Steel Tooth Bits
Steel Pipe & Tube Co., Ltd. , http://www.nbsteelpipes.com