The most concerned domestic first car enterprise strategic alliance was finally unveiled in Beijing the day before yesterday. GAC Group and Chery Automobile formally signed a strategic alliance cooperation agreement. The two parties will carry out in-depth cooperation in various fields such as R&D of complete vehicles, core components and new energy, and system capacity building.

This has also become an "ice-breaking journey" for domestic car companies to cooperate with the technology alliance. Industry analysts also believe that under the background of increasingly fierce competition from domestic brands with domestic brands, GAC and Chery have created a new model of self-development through market-based alliances, which will accelerate the competitiveness of their own brands.

"Open and happy cooperation"

"Chery has firmly studied with GAC. It is not a small account. It does not hide its eyes and open up its cooperation." At the signing ceremony, Yin Tongyue, Chairman of Chery Automobile, described the newly-built cooperation relationship between the two parties.

According to an announcement released by Guangzhou Automobile Group yesterday, the two parties signed the "Strategic Alliance Cooperation Framework Agreement" and "Technology Cooperation and Research and Development Resources Sharing Cooperation Agreement" and "Powertrain Support and Resource Sharing Cooperation Agreement". The main contents of the "Strategic Alliance Cooperation Framework Agreement" include: "Co-planning, co-development, and communication in vehicle development, powertrain, parts and components, R&D resources, energy-saving and new energy vehicles, international operations, and manufacturing management. shared."

The main contents of the "Technology Cooperation and R&D Resources Sharing Cooperation Agreement" include: "To share and integrate R&D resources such as vehicle platform and key component technologies and experimental tests; to carry out technical exchanges and exchanges in energy-saving and new energy vehicles, and to help each other "Development of Powertrain Support and Resource Sharing Cooperation Agreement" mainly includes: "In cooperation with parts and components resources, including the engine and gearbox; to open up complementary resources; to share the results of platform components."

The announcement also showed that the cooperation agreement between the parties will be valid for three years.

There is a lot of complementary space on both sides
Among the contents of the cooperation between the two parties is the core content of the joint development of the vehicle, the sharing of powertrains, and the integration of key component industrial chains. The cooperation and sharing on core technical resources shows that the two sides are deeply "electric shocked."

As the largest-selling auto brand car company, Chery has owned independent research and development capabilities, independent intellectual property rights and core technologies for complete vehicles, engines and some key components. GAC, through its Alfa Romeo platform technology, has developed a medium-to-high-class vehicle and has developed a series of engine products that have reached international advanced level in production and manufacturing. Therefore, there is a lot of complementary space between the two parties. In particular, the sharing of engine technologies will reduce the investment in the research and development of power technologies.

GAC will launch its own brand passenger car export strategy from next year and is expected to leverage Chery's overseas resources. GAC, which is proficient in manufacturing and operations, will also help boost Chery's overall operating standards.

Since Chery has more research and development accumulation in the low-end sedan segment, the industry expects that the next-generation A-car series products that Guangzhou Automobile will launch may be introduced into the Chery platform, and through the integration of both supply chains, it will reduce the development and manufacturing costs.

Develop new models for independent cooperation
The most important significance of the cooperation between Guangzhou Automobile and Chery is therefore to open up new ideas for accelerating the development of self-owned brand cars and to respond to unprecedented fierce domestic market competition.

Zhang Fangyou, chairman of GAC Group, stated that at present, China's auto industry has entered a steady growth phase, and China's auto industry is undergoing profound adjustments and changes, coupled with the slowdown in macroeconomic growth and the relative development of transportation infrastructure. With the constraints of lags and other factors, major domestic automobile groups are facing the pressure of industrial restructuring and transformation and upgrading.

The domestic automobile industry has entered the stage of "micro-growth" since last year, and the market share of its own-brand passenger cars has been declining in the fierce competition. Chery, the boss of its own brand sales, faces a situation of declining domestic sales; the launch of high-end self-owned brand products soon The Guangzhou Automobile Group has also encountered tremendous pressure. Industry analysts believe that the full cooperation between the two parties will, in particular, help reduce the huge cost of R&D and accelerate the pace of new products and new technologies being put on the market.

Liu Tie-nan, deputy director of the National Development and Reform Commission, pointed out that large-scale enterprise groups have established various strategic alliances such as joint technological development and joint procurement, forming powerful complementary advantages and resource sharing, and enhancing overall competitiveness, and have become a strategic adjustment for the international automotive industry. the trend of. With the integration of the global economy and the internationalization of the domestic market, in the face of fierce market competition, the strengthening of strategic cooperation among domestic auto companies is an inevitable choice for companies and independent brand products to continue to grow.

"We hope that both sides will take advantage of the alliance, explore cooperation models and market-oriented mechanisms, and make contributions to the market players in order to become stronger," said Liu Tienan.
Liugong Bullzoer Part
Liugong Bulldozer Part Including Liugong bulldozer Undercarriage part , Engine part and Electrical part .
1. Liugong Buldlozer TD40-E Product Technical Parameter
Cab comfort, sealing, sound insulation, equipped with: air loop system, air conditioning/warm wind again, luxurious and comfortable suspension seat can be adjusted to the right to 14 degrees, in line with the ergonomics design of joystick, make the shovel manipulation
Slightly tilted and tapered hood gives the operator a wider view of the shoveling tool pusher
Unique suspension design, high reliability, easy to drive smoothly
The front scraper hoist cylinder provides more lift force for the shovel
The large-capacity shovel is equipped with full-width wear protection plate and double system of left and right tilt/back tilt, which is suitable for all types of pushing work
The 384KW (515hp) cummins QSK19 engine meets European EUStage 3A and us EPA Tier3 emission standards
Multi - component modular cooling system, with hydraulic driven fan, different speed, improve cooling capacity
Double open shutter type radiator grille
The walking speed preset system and automatic gear reduction function improve the working efficiency
The modular drive system facilitates the diagnosis and detection of ports, filters and observers, and improves the maintainability
The unique dual speed steering system provides superior traction, steering ability, 6 different speed forward and backward gear
Advanced electro-hydraulic control system
The enlarged track center distance improves slope stability and heat dissipation performance
The front and rear lights provide adequate lighting for night operations
It can be used in polar and hot climate, metallurgy and coal shoveling to improve the versatility of bulldozers
Two gear drive steering system provides good transmission steering performance
Large capacity shovel, more load
2. Liugong bulldozer Model
TD40-E, B160C, B160CL, B161CL, B230,B230R, B320 Bulldozer
3. Liugong bulldozer undercarriage spare parts TD40-E bulldozer
Track system is Maintain correct Track Shoe Aseebly tension, Absorb the vibration of the guide wheel as the bulldozer moves. Crawler Ider assembly and work with the crawler tensioning mechanism to provide the crawler assembly with the appropriate tightness. The Track Roller (Single or Double Flange) supports the weight of the bulldozer on one hand and prevents the track from derailment during walking on the other.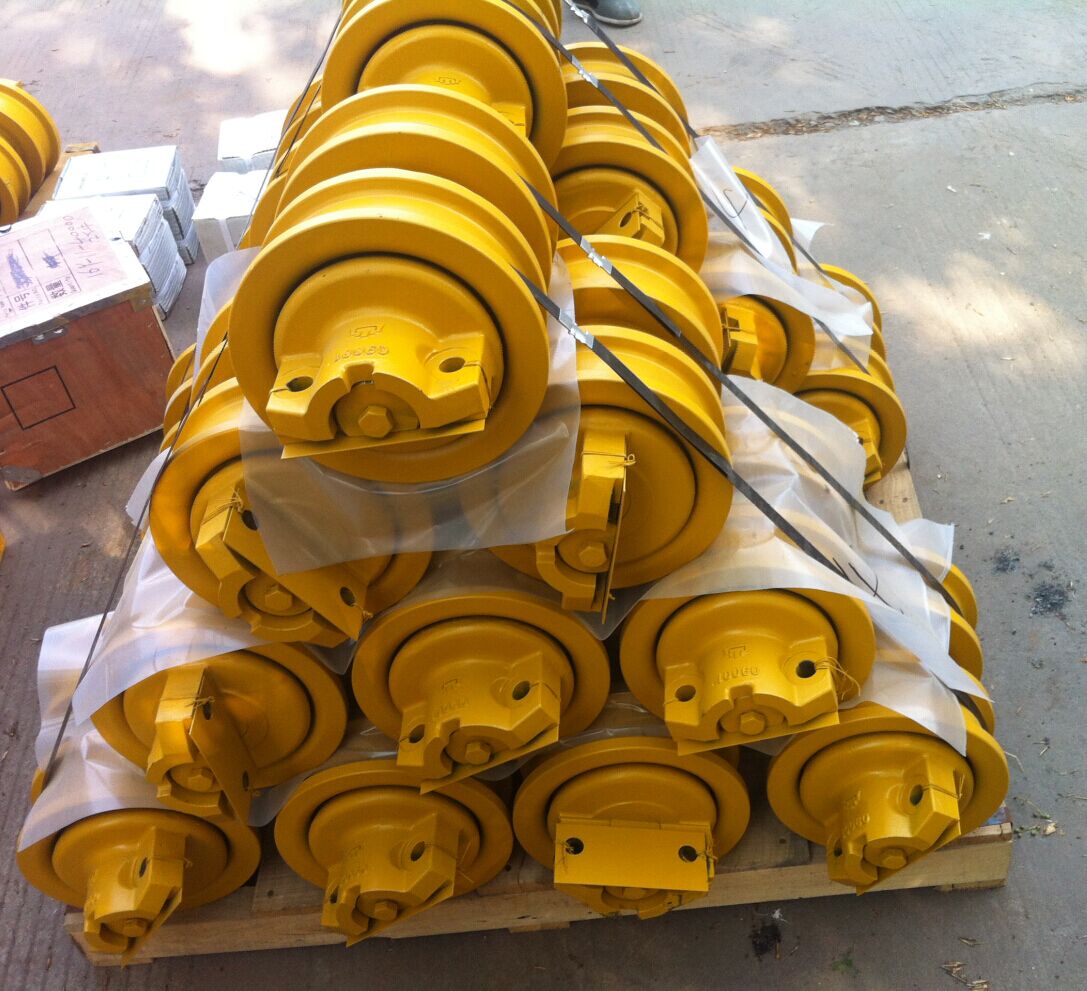 4. Liugong bulldozer Use Engines Type
TD40-E Cummins QSK19 Engine 384KW 515HP
B160C Weifang Diesel Engine WD10G178E25 120KW
B230R Chongqing Cummins NT855-C280S10 Engine 169KW
B320 Chongqing Cummins NTA855-C360S10 Engine 235KW
5. Other Liugong Equipment
Liugong Brand Wheel Loader , Excavator, Roller,Motor Grader , Skid Steer Loader , Backhoe Loader, Forklift , These Construction Machinery Genuine and OEM Spare parts we can provide .
Another Bulldozer Parts we can provide as following:
Bulldozer parts: Shantui Bulldozer Part, Shanghai Pengpu Bulldozer Part, HBXG Bulldozer Part , Liugong Bulldozer Part, Tianjin YISHAN Bulldozer Part.


Liugong Bulldozer Part
Liugong Bulldozer Part,Liugong Spare Parts,Liugong Parts,Bulldozer Spare Part Cylinder Support
Jining Kunpeng Construction Machinery Equipment Co., Ltd , http://www.excavatorenginepart.com