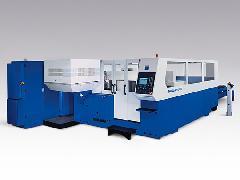 It is understood that China is now the largest machine tool market in the world. Almost half of the world's annual production of machine tools is sold to the Chinese market. At present, German machine tool manufacturers have accelerated their deployment in China.
According to relevant requirements of the 12th Five-Year Development Plan announced by China's machine tool industry, it is expected that by 2015, with the upgrading of production lines of many manufacturing companies, the total output value of China's machine tool industry will reach 800 billion yuan.
According to Nicola Leibinger-Kammüller, President of the TRUMPF Group, although TRUMPF's sales in the Chinese market were only 186 million euros in 2011, its sales in China in 2013/14 are fast. The performance is expected to reach 500 million euros.
Following the establishment of an R&D technology center in Taicang, Jiangsu, EMAG set out to establish a manufacturing base in the Asia-Pacific market in Jintan, Jiangsu. According to the plan, the total investment in the first and second phases will reach 4.9 billion yuan. It is planned to build an annual output of 3,000 high-end CNC machine tools. project.
Intex Group expects sales in 2012 to be 450 million euros, which is a significant increase from 2010's 330 million euros. Its main growth comes from the Chinese market.
In 2011, the performance of McCutcheon focused on power tools in the Chinese market has increased significantly by 25%. However, the person in charge believes that the potential of the Chinese market is far from being discovered. At present, only about 30% of its products for Asian customers come from Shanghai. The remaining 70% of the company also needs to be imported from Jörtingen, Germany. The next step of the company's goal is to supply at least half of the power tools for Asian customers by 2015 directly to local production in China.
According to expert analysis, with the advent of new generations of changes in China's manufacturing industry, the demand for new machine tools will show explosive growth in the future. Under the encouragement of China's policies, key industries are undergoing a comprehensive upgrade, and low-end products will gradually be eliminated by the market. Demand for high-end machine tools will increase day by day, and the Chinese machine tool market contains huge business opportunities.
Description:
Z408 Cast Iron Welding Electrodes is a graphitic(with strong reducing) type coating with Nickel/Ferro core welding electrode for cast iron. It has features as follows: high toughness, excellent plasticity, low linear expansion coefficient, etc, Both AC and DC can be applied in welding.
Applications:
Z408 CAST IRON WELDING ELECTRODES is used for repairing important and high toughness parts made of gray cast iron and nodular iron, such as cylinder head, motor stand, gear wheel, etc.

Attention:
A. Welding Electrodes must be baked for 1 hour at the temperature of 150℃ before welding.
B. Small current is best to be adopted.
Z408 Welding Electrodes,Z408 Cast Iron Welding Electrodes,Welding Electrode Z408,Cast Iron Electrode Z408
Dingzhou Jinlong Metal Production Co., Ltd. , http://www.weldingelectrodefactory.com