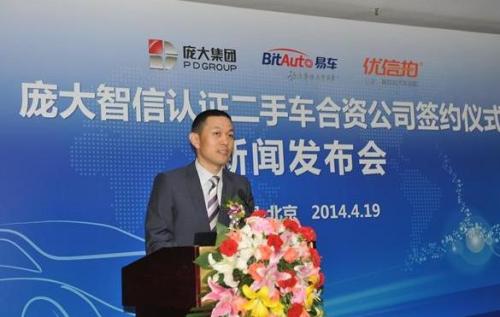 On April 19, Datong Auto Trade Group Co., Ltd. (hereinafter abbreviated as "Big Group") signed a tripartite cooperation agreement with Easy Car Company and Youxin Pao in Beijing to jointly inject capital of 100 million yuan to set up a "big Zhixin Certified Used Car Joint Venture" (below As the abbreviation for the joint venture company, Mr. Pang Qinghua, Chairman and General Manager of Grand Group, Mr. Li Bin, Chairman and CEO of Easycar, and Mr. Dai Ji, CEO and CEO of YouXinPak, signed the contract at the signing ceremony.

It is understood that the three major companies have jointly established a joint venture company in order to become the largest professional second-hand car trading service provider in China and to carry out second-hand car business chain operations for the country and even surrounding countries. The joint venture uses the O2O (online to offline) innovation model to create a trustworthy and transparent trading platform for consumers in the used car industry: the online platform passes the deep resources and service capabilities of the easy car in the used car field, and the excellent auction of the excellent letter shoots The system provides consumers with real and comprehensive information trading services for used car products; offline chain stores (giant network advantages) provide consumers with professional second-hand car certification, transactions and quality assurance services.

The huge group relies on its own marketing advantages across more than 1,500 authorized outlets across the country. The joint vehicle company has a strong user influence in the online marketing of new and used cars, as well as excellent letter shoots advanced second-hand car trading platform technology advantages, and a comprehensive online line. Under the auction service system and management experience that has served thousands of dealers for many years, we have created a new sales model that integrates professional second-hand car network trading platforms and physical display. Through the introduction of the auction business, it opened up the used vehicle distribution channels within the large-scale system, rapidly improved the distribution efficiency and profitability of dealers' used vehicles, and provided a quality and stable vehicle source for the joint venture company's certified retail business for the consumers to choose.

With the gradual improvement of the used-car market system and the shift in consumer attitudes, the potential of the domestic used-car market is erupting. Relevant data show that the volume of used-car sales in 2013 reached 5.2 million units, an increase of 8.6%. Compared with the US used car market, its trading volume is three times that of the new car; in China, the trading volume of used cars is less than 1/4 of the new car transaction volume, and there is still much room for development. This has given rise to many new forms in the trading chain of the used car market. Industry insiders believe that the large-scale chain operation model of the large-scale Zhixin Certified Used Car Company is more competitive than the decentralized operation in the status quo, and is more conducive to the integration of the domestic used car market. It can obtain a large amount of network information, and will The needs of customers are linked to idle market resources.

According to reports, the joint venture's first used car self-service trading service flagship store in Beijing is located in the Wufangqiao West Huge Automobile and Trade Park in Chaoyang District, Beijing. It will begin to provide comprehensive external services in June.

[Extensive Group Overview]

The Group is China's largest car dealership group and China Top 500 Enterprise. It was formally listed on the Shanghai Stock Exchange on April 28, 2011, becoming the first domestic auto trading group that achieved A-share access through IPO. The huge group has maintained a high growth momentum for many years. As of December 31, 2012, there were 1,429 marketing outlets in 28 provinces and autonomous regions in China and Mongolia, including 1153 car stores (including 4S shop 754). There are 276 domestic and various automotive markets, and there are nearly 100 kinds of auto and engineering machinery brands that can be sold. In 2012, they sold 453,000 various types of automobiles.

[Easy Car Company Overview]

The company is a company listed on the New York Stock Exchange of the United States, and the stock code of the New York Stock Exchange: BITA. It is the largest automotive Internet company in China, providing professional and rich Internet information services for Chinese auto users, and providing automobile manufacturers and auto dealers with Effective internet marketing solutions. With its common values ​​of "professional, cooperative, and innovative" championship team culture, Auto is committed to providing users with a simpler, more exciting car life.

[Outstanding letter shot summary]

Youxinpai is a professional supplier of auction vehicles for used car auctions and is the largest second-hand car online auction company in China. The core business brand is the "Yinxinpai" online auction trading service platform for used cars. Through the one-stop service including auction auction, condition checking, safe payment, after-sales service, and remote logistics, the company distributes brand names for domestic automakers. Commercial, used car dealerships, large-scale car companies and vehicle owners provide the most timely used car auction services. Youxinpai has established companies in Beijing, Shanghai, Guangzhou, Chengdu, Tianjin and Hangzhou and has established services and venues that include centralized delivery and on-site auctions. The company has 200,000 square meters of on-site auction and delivery venues. Million professional buyers cover 353 prefecture-level urban areas in 31 provinces and cities.
Our company can use different materials to make pump grade according to the well condition. The pump for high sand content and high gas well can be provided completely according to customer requirements. Our company has a professional design team, advanced production equipment, first-class service team, and continuous quality assurance for customer service.
513Series Petroleum Submersed Pump
513Series Petroleum Submersed Pump,Petroleum Submersed Pump,Water Pump,Electric Pump
Tianjin RongHeng Group LLC , http://www.wholesale-water-pump.com