Japan's National Institute of Advanced Industrial Science and Technology and Kansai University of Japan are currently developing a new type of lithium-sulfur battery called Li-Ion, which is expected to be drastically reduced to smartphones Such as portable terminals charging frequency is expected to 3 to 5 years later to practical.
In the lithium-ion battery electrodes using sulfur, the battery capacity increased to 4 to 5 times the technology have been developed, research and production by making it strongly with the electrode metal to solve the problem of sulfur is easily soluble in electrolyte, Japan Kansai University In the electrode structure innovation.
Reporters said in the report, lithium-ion battery from lithium ions through the electrolyte back and forth between the positive and negative electrodes to achieve repeated charge and discharge. Cathode with rare metals, including lithium cobalt oxide.
Rather than being a rare resource, sulfur "has the power to store large amounts of electricity and is suitable for use as an electrode material." In this study, sulfur is processed into a microparticulate form and used for the positive electrode on the basis of increasing the surface area.
For repeated charge and discharge, the sulfur will be dissolved in the electrolyte to reduce the performance of the battery has been developed to solve the problem, the use of technology is made of iron and titanium and other metals and sulfur powder, together with the ball made of ceramic mixing. With the impact of small balls collide with each other, the metal atoms and sulfur can be closely combined.
In this study, Rongbubi Xia, senior research fellow at Japan's Advanced Research and Synthesis Institute, found that one metal atom can be combined with four or six sulfur microparticles: "The number of nanometers that open on carbon that is used for the electrode is in the order of 10 nanometers 1/10000 millionths of an inch) penetrate the sulfur microparticles into the holes to make fine particles easy to fix, and fill the holes with sulfur efficiently. Approximately 30% by weight of the electrode produced by this method is sulfur, and Battery capacity up to 4 times the previous. "
With this tacit understanding with Professor Ishikawa made positive, 2 battery test. Even repeated? 2 lines hundreds of charge and discharge can maintain performance. The charging time is reduced to 1/20 of the previous lithium-ion battery. In the future will increase the sulfur infiltration of carbon.
our dished heads are used in a variety of applications and industries such as storage tanks, pressure vessels, road tank, food processing operations, chemical plants ,Nuclear operation, Oil Refining, Architectural feature, power generation.
Due to our forming experience and equipment, we can spin or press the first part of the process of forming your products, It depend on the thickness and material performance,
Our main products are 2:1 SE dished heads, Torispherical heads, Cones,Hemispherical Heads etc
Choosing the right type is the key decision for each customer and one for which our experience team to happy to give advice, simple speaking, the torispherical heads, the less ressure it can withstand, Conversely, the deeper dished heads, for example Elliptical heads, hemispherical, the greater pressure it can take.
Our in house-capability to form dished heads by cold press brings major benefits to our customers and sets us apart from others dished heads manufactures
For carbon steel dished heads, we can forming this dished heads from 76-9000mm in diameter and below 250mm in thickness
The general forming process as the below sketches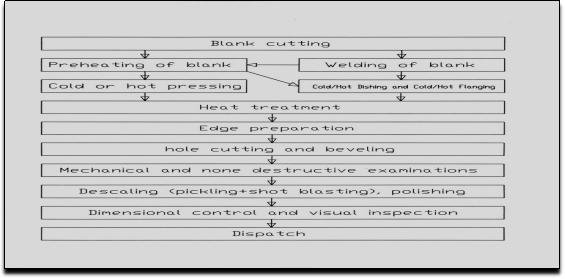 Technical Delivery Condition
1,Our material (hot Rolled Unalloyed structural steel, high and low temperature steel, High Alloy steel)
We have no carbon steel plates in our stock and most of plates are from Chinese steel market or mill. Meanwhile As Japanese owed company, We can also source the plates from Japanese ex-mill if end user can`t accept ex-chinese mill.
Basically the delivery time shall be below 20days for dished heads if plates are from steel market. and Max plates width from them is below 2200mm. it means that the seamless dished heads diameter shall be below about 1800mm.
The max width CS plates that Chinese mill can do is below 4700mm,and dished heads can be seamless below 3800mm in diameter.
2,Enquiry/order required information
We can give our clients once they gave us the below information
But if clients tolerance is higher than below Hokkai standards, it shall be provided to Hokkai prior to offer or ordering.
Stainless Steel Dished&flared Head
Stainless Steel Dished&flared Head,Stainless Steel Dished Flared Tank Heads,Dished&flared Head,Stainless Steel Flared Dishend Head
YIXING HOKKAI HEAD PLATE CO.,LTD , http://www.hokkaidishedend.com