"I am a truck driver and also a fanatic enthusiast of motor sports. Before I heard that there were trucks participating in the Dongchuan Rally, unfortunately I could not catch up. This 'big off-road' is arguably the largest off-road rally in China. I would certainly not miss this opportunity with trucks. To tell the truth, although trucks have been open for more than a decade, I couldn't really think of a truck that could have achieved such a high level in such difficult races. After the game is over, I have to buy a 'beyond' truck and drive 'car racing' every day. "Looking at the "beyond" speeding around, Mr. Zhang excitedly said to the camera.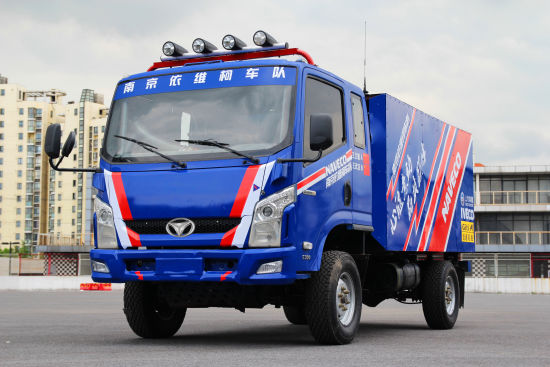 This is the scene that took place at the 2013 China Off-Road Rally. Like Mr. Zhang, as the first international car offroad event held in China for the first time, the 2013 China Off-road Rally is attracting many domestic automobile manufacturers and racing enthusiasts with endless competitive charm. Come together. Teams, riders and fans have come together to experience the speed and passion of people and cars in this extreme track that passes through five provinces, cities, and autonomous regions and takes nearly 10,000 kilometers.
It has been a while since motorsports entered China. However, the manufacturers of the previously participating manufacturers are mostly passenger car companies. In this area, domestic commercial vehicle manufacturers are still in a vacuum. In the face of this "cold trader cold," Nanjing Iveco, who is the leader of domestic commercial vehicle companies, took the lead in leading the commercial vehicle into the racing world.
The Nanjing Iveco team has sent four cars with multiple championship rings to participate in the competition. In addition to the 2013 Dongchuan mudslide international cross-country race with a race rate of only 30%, it won the 2013 China Year of the Truck Group Championship. In addition to the "Exceeding" products of light trucks, the "Iveco PowerDaily 2014", the all-new annual high-end light passenger vehicle that will be launched soon after the debut at the 2013 Shanghai Auto Show. While sending top vehicles to participate in the competition, Nanjing Iveco has also established a super-luxury driver lineup. Not only Zhang Jian, Wang Wenchao, and He Xueshi are the three famous drivers of the racing industry, but also invited CCTV-5 famous sports show host. Senior racing commentator and celebrity rider Sandong drove Nanjing Iveco's chariot to join the battle for thousands of miles.
During the game gap, a reporter from Beijing Business Daily interviewed Sha Tong, who said: "China's off-road rally is also known as 'China Dakar' and is the world's most difficult and longest-running off-road rally event. The competition lasted 16 days. From Beijing to the destination of Dunhuang, the track encompasses a variety of complex landforms such as deserts, Gobi, hills, canyons, Yadan, etc., which is similar to the Dongchuan mudslide international cross-country race. King Chao's 'transcendence' is undoubtedly the most talkative."
No one company can say that its products are not good, but letting you talk to yourself and boasting about hysteria, before consumers buy and use products, what consumers hear and see is just merely on paper and they want to really get recognition. Need to prove through actual combat. Today, Nanjing Iveco and their "Transcendence" chariots are using actual actions to tell consumers who are truly trustworthy brands and which products are the best light trucks in the country.
The exciting 2013 Chinese off-road rally is now raging in the North Desert. The devilish schedule has already caused more than 40% of the cars to crash into the desert. The rest of the cars are very attractive and full of heroes. You chase me. Catch up, roar along the way forward, toward the end of the event - the historical and cultural city of China Dunhuang hastened. Amazingly, Nanjing Iveco's four cars and warriors have all stood the test of this devil circuit and are advancing toward goal with full enthusiasm and high morale. It is reported that Nanjing Iveco high-end light truck "beyond" the latest model C100 has been listed on September 28 in Dunhuang, will be a victory with Nanjing Iveco team. We are here to look forward to the quality and style of the Nanjing Iveco IV World Championship. The flag will win and the triumph will return.
China Dust Removal Equipment,Dust Collector Machine,Industrial Dust Collector Manufacturer
Dust Removal Equipment,Dust Collector Machine,Industrial Dust Collector,Bag Dust Collector
China leading manufacturers and suppliers of Dust Removal Equipment,Dust Collector Machine, and we are specialize in Industrial Dust Collector,Bag Dust Collector, etc.
Dust Removal Equipment
Dust Removal Equipment,Dust Collector Machine,Industrial Dust Collector,Bag Dust Collector
Hebei Wangjing Environmental Protection Co., Ltd. , http://www.wjdustcollector.com