China's LED industry took the lead into the era of high-power lighting! Recently learned from the Chinese Academy of Sciences Hercynian Research Institute, the hospital in conjunction with its industrialization platform Core source company, developed the world's leading kilowatt-level COB fluorescent ceramic packaging core technology, this ultra-high-power COB light source to fill the field of LED outdoor lighting blank , Can be widely used in square, harbor, airport and other fields, the average saving rate is about 70%, carbon emissions, maintenance costs significantly reduced. This technology has been favored by national projects, used in preparation for the 2018 Olympic Winter Games venue lighting training.
Zhang Yunfeng, head of the Cooperation and Development Division of Hercynian Research Institute of Chinese Academy of Sciences, told the reporter that aiming at the hot competition of domestic and foreign enterprises with high-power LED lights, the institute opened a new trail from material sources to major projects of science and technology in Fujian Province and special cooperation projects of Academia Sinica Funded by the original "King of Ceramics" - the technical basis of laser ceramics, fluorescent materials through the doping of ceramic materials to caustic soda, developed a new transparent fluorescent ceramic packaging materials, excellent and stable LED luminous efficiency And light-emitting performance; the development of high-power transparent fluorescent ceramic COB packaging technology, breaking the kilowatt-class COB light source packaging industry bottleneck, and the successful realization of industrialization through the core source.
"This is a revolutionary breakthrough in China's LED industry technology." Ye Shanghui, deputy general manager of CSPC, said that with its own intellectual property rights as the core, Transparent Fluorescent Ceramics possesses a wide range of technologies ranging from equipment and formulation to packaging technology, thermal design and thermal modeling Group integration and other complete patent chain, and in June this year, the completion of the global patent layout, breaking the long-term control of China's LED industry, the situation, a substantial increase in the international competitiveness of the industry. At present, the result has applied for 38 patents, of which 4 are international patents.
Anti-static Floors products
1. Die -cast Aluminium anti-static floors products.
2. Strong bearing capacity.
3. Elaborated made to ex-change;
4 .Acceptable electric leakage;
5. Aluminum Die Casting suitable for communications, auto parts, lamp part series, water pump part series, power tool series, radiator part series, Anti-Static Flooring products and other series products.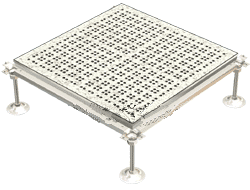 Applications:
Anti-Static Flooring Products widely used in user floor Air-conditioning machine rooms, Clean rooms, Clean factories, and hospitals, high-grade computer rooms.
Aluminum Die Casting Anti-Static Flooring
Anti Static Flooring,Anti-Static Flooring,Anti Static Floor Mat,Aluminum Die Casting Anti-Static Flooring
Ningbo WEIBO Molding&Machine Co.,Ltd. , https://www.diecasting-manufacturers.com